Description
TTZ-4 Square Drive Torque Wrench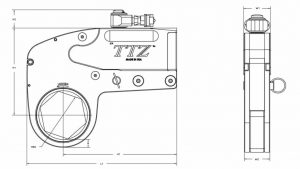 Hex

:

1″- 2 3/4″

Torque

:

269- 1,875 lbs.

Radius

:

.38″

Overall Length

:

6.97″

Link Height

:

3.73″

Swivel Height

:

1.09″

Tool Width

:

1.25″

Link Width

:

1.13″

Slim design allows tool to fit where a square drive tool can't

Multi-position hose couplers prevents hose interference on all jobs
Simply connect hex links for quick and easy hex size changes
---
Hyflow Air/Electric Pump 115v/230v
The Hyflow 115v/230v power pack is a super high-flow, 770 cu. in. heavy duty power pump pack used for hydraulic torque tools and for all 10,000 PSI equipment. This Power Pack is supplied with built in air filter/ lubricator and has a reservoir of 4.4 liters (also available with a 7.75 liter reservoir).
Electric/Air
Max Pressure:10,000 PSI/ 700 bar
Electric Max Flow at 60Hz: 620 cu. in.
Electric Max Flow at 50Hz: 510 cu. in.
Air Max Flow: 770 cu. in.
Weight without oil: 57 lbs/260 kg | 46 lbs/21 kg
Dimensions: A/B/C: 18.8/9.8/16.1″ | 20/11/16″
---
Hydraulic Hose
Keeps hydraulic system running cooler and less subject to failure allowing long-term usage and reliability
53″ o.d. on 1/4″ i.d. hose
.44 lb-ft twin line hose stands up to heavy usage
10,000 PSI on a 4:1 safety
Two high strength  steel spiral wraps for quick tool reaction (9.1 internal expansion at 10,000 PSI) Anti-lock tools with no need for an anti-jam
---
Safety Handles
Added safety and convenience comes with every purchase from AMG Bolting Solutions via safety handles.
For all Hydraulic Torque Wrenches: Pancake and Square
Standard and customized solutions for every type of application.