Description
TTZ-2 Pancake Low Clearance Torque Wrench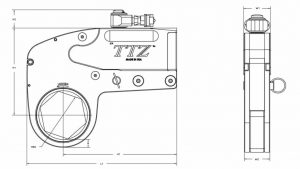 Hex

:

1″- 2 3/4″

Torque

:

269- 1,875 lbs.

Radius

:

.38″

Overall Length

:

6.97″

Link Height

:

3.73″

Swivel Height

:

1.09″

Tool Width

:

1.25″

Link Width

:

1.13″

Slim design allows tool to fit where a square drive tool can't

Multi-position hose couplers prevents hose interference on all jobs
Simply connect hex links for quick and easy hex size changes
---
Dynamic Air/Electric Pump 115v/230
The Dynamic 115v/230v power pack is our lowest weight and smallest sized hydraulic power pack, when size and weight matter, no other pump can meet the performance of our DYNAMIC hydraulic power pack. The Dynamic AIR Power Pack is a 250 cu. in. power pack used for hydraulic torque tools and for all 10,000 psi equipment.
Max Pressure:10,000 PSI/ 700 bar
Electric Max Flow at 60Hz: 250 cu. in.
Electric Max Flow at 50Hz: 200 cu. in.
Air Max Flow: 620 cu.in/min
Weight without oil: 27 lbs/14.9 kg
Dimensions: A/B/C: 14/6/13″ | 360/170/340m
---
Hydraulic Hose
Keeps hydraulic system running cooler and less subject to failure allowing long-term usage and reliability
53″ o.d. on 1/4″ i.d. hose
.44 lb-ft twin line hose stands up to heavy usage
10,000 PSI on a 4:1 safety
Two high strength  steel spiral wraps for quick tool reaction (9.1 internal expansion at 10,000 PSI) Anti-lock tools with no need for an anti-jam
---
Safety Handles
Added safety and convenience comes with every purchase from AMG Bolting Solutions via safety handles.
For all Hydraulic Torque Wrenches: Pancake and Square
Standard and customized solutions for every type of application.